Ninja Creami Protein Ice Cream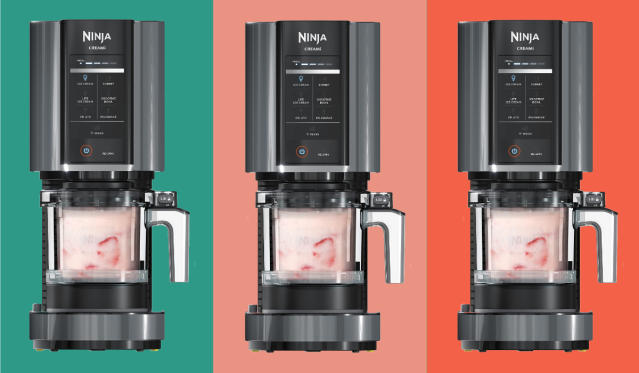 Getting in protein at each meal is one of the most powerful things you can do to support your lean muscle mass and your overall health.
When it comes to eating sweet treats it can be hard to totally cut them out of your diet but it can also be hard to work them in AND hit the nutritional targets that you need in order to achieve your health goals.
If you have been on social media at all than you may have seen the hype around the Ninja Creami appliance. This magical device lets you turn your protein shake into a creamy, dreamy, low calorie delight!
Now I may be a little bit bias BUT I have been playing around with this device in the Glow Body kitchen and I think that our protein makes the best flavored ice cream!
Check out some recipes below for a Glowing Protein Ice Cream Treat!
NINJA CREAMI ICE CREAM SET UP:
1. Prepare your ice cream base in the pints 24 hours ahead of time. Blend together all the liquids (not the mix ins yet!)
2. Freeze on a flat surface for 24 hours (or at least 8!)
3. When you are ready to enjoy your creami treat pop your pint into the Cremi and press the light ice cream setting. If your ice cream comes out powdery just add an extra tablespoon of liquid and re-spin!
*If you want to add in a mix in, add them in after and then press the mix in setting and spin away! 
** There are some other settings on the machine but for all the below recipes you will just need the lite ice cream setting!
HIGH PROTEIN FRO-YO
175g Greek Yogurt
1 cup almond milk
1 scoop Glow Body Cookies and Cream Protein
2 tbsp monk fruit sweetener
Mix In's:
Granola
MOCHA PROTEIN ICE CREAM
1/2 cup cold brew
1/2 cup almond milk
1 scoop Glow Body Chocolate Protein
2 tbsp monk fruit sweetener
1 tbsp cocoa powder

Mix In's:
Chocolate Chips
Gluten Free Cookies

PUMPKIN SPICE PROTEIN ICE CREAM

1 cup almond milk
1/4 cup pumpkin puree
1/8 tsp pumpkin spice blend
1 scoop Glow Body Cookies and Cream Protein

Mix In's:
Gluten Free Graham Crackers
When you make your glowing Ninja Creami creations be sure to tag us @glowbody.nutrition on Insta!
---